Being a Purina Certified Expert Dealer means that we offer a complete line of quality Purina feed products and have knowledgeable associates who care first about our customers, and their animals. Training is a key element for our Certified Expert staff and you can depend on us for Certified Expert advice!
Bulletin Board
Don't miss our massive $10 Iron Horse sale! All jeans, tees and belts must go! Sat, July 12th - Sun, July 13th
Do you have an order with us for $150 or more? See in store for how you may be eligible for FREE delivery!
Expert Articles & Advice
July 1, 2014
Keeping your horse hydrated is a key component in keeping him healthy. There are several ways to ensure that your horse drinks enough and maintains hydration. Read more
July 1, 2014
We all love spending those long summer days outdoors with our pets. Let's face it, they're our furry companions and wherever we go, they go too. Keep in mind that like humans, not every pet can stand the heat.
Special Offers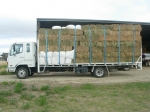 FREE Delivery with $150 Minimum Order. See store for details.
Purina Equine Videos
New Purina® SuperSport™ Supplement - Proven, Faster Recovery
Quick Contact & Hours
Mon - Fri
8:00 am - 6:00 pm